DEPC Annual Meeting: Creating an Inclusive Economy in Denver
Date:
Tuesday, May 14, 2019
Location:
Denver Country Club, 1700 E 1st Ave, Denver, CO 80218
Speaker:
Denver City Councilman Albus Brooks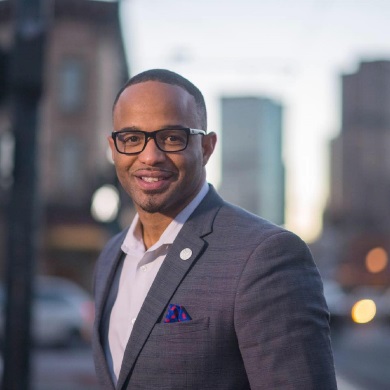 Denver Country Club, Denver Room
1700 E 1st Avenue
Denver, CO 80218
Program:
"Creating an Inclusive Economy in Denver"
Presenter:
Albus Brooks is the current City Council Representative for Council District 9 representing NE Denver. He is also the former President of Denver City Council, serving from July 2016 to July 2018.
Community service and leadership have long been part of Albus Brooks' identity. He moved from California to Colorado in 1997 to study at the University of Colorado in Boulder and play football for the Colorado Buffs. Before his time in the political arena, Albus dedicated his life to working with young people in Denver's urban neighborhoods. He has worked in the NE Denver community for the past 18 years. Part of that time includes serving as the Director of the Issachar Center for Urban Leadership (ICUL), an organization that invests in emerging leaders throughout Denver. After ICUL in 2010, Albus Brooks helped then-Mayor John Hickenlooper get elected Governor of Colorado, acting as his Outreach and Political Director, managing field and constituency outreach operations.
In 2011, Councilman Brooks was elected to his first term on City Council where he represented the Great District 8. An eclectic yet disconnected district, Councilman Brooks campaigned under the motto, "Connecting Diverse Communities," a rallying cry that spoke to the values of the community and helped him defeat his 38 challengers. In 2015, Councilman Brooks ran for a second term against two other opponents and won his race by a commanding 68% of the votes, which has helped him continue his mission of connecting grass roots to the grass tops. The new district boundaries now placed Councilman Brooks in District 9.
Currently, Councilman Brooks is working towards improving infrastructure gaps in his district and rehabilitating neighborhoods that have systematically been the result of biased infrastructure. This year he advocated for and passed through City Council the city's largest bond pedestrian/bicycle improvement package with $150 million dedicated to pedestrian/bicycle improvements.
Although a growing global leader, it is District 9 in Northeast Denver where Albus feels most at home. He lives in the socioeconomically diverse Cole neighborhood with his wife Debi and their three young children, Makai, Kenya and Kaya, and their new dog, Cali. When he's not in the community engaging with constituents, he loves riding bikes with his family around Denver, cheering on the Buffs and Broncos and snowboarding in the mountains.
---
This is our Annual Meeting pursuant to our Bylaws and is for DEPC members only (no guests).
Lunch will be served. Parking is available anywhere in the Denver Country Club parking lot. The main entrance is on the northeast side.
Business attire is required.
The Denver Country Club does not permit cell phone usage on the property.
Please RSVP by Thursday, May 9, 2019. You are invited to email our Office Manager, Stephanie Hill, at steph.hill@yahoo.com with any questions.
---
This meeting is sponsored by:

Related Document(s):