About Us
Who We Are
The Denver Estate Planning Council was established in 1958 to promote multi-disciplinary education, understanding, and cooperation among professionals who are involved in estate planning. It is organized to help its members render the highest possible service to the public by presenting excellent educational programs. In recent years some of the speakers at our meetings have included Natalie Chaote, Howard Zaritsky, Jeffery Pennel and Jonathan Blattmachr.
When We Meet
There are four regular breakfast meetings and annual meeting each year. Breakfast meetings are normally scheduled on the third Thursday of September, November, January and March. Morning meetings begin at 7:30 a.m.at the Denver Athletic Club in downtown Denver. Members are welcome to bring guests to breakfast meetings at no additional charge. The annual meeting is scheduled for May to conduct a short business meeting and to allow members to socialize. The annual meeting is for members only.
How to Become a Member
To be eligible to become an active member of the Council, one must submit an application to the current President or apply online with the form available on this web site. Membership is reserved for professionals who actively practice and exhibit experience in estate planning. Applicants must list three current members who would be comfortable referring you as a member. Written recommendations are not required at this time. Not more than two of the three must share the same area of practice and not more than one may be from the applicants own firm. We encourage prospective members to review the By Laws of the council on this website.
Annual membership dues are $200 for Active Members and $175 for Life Members. Please see our Bylaws for Life Membership requirements.
Reduced membership dues are available for new professionals in estate planning disciplines. Dues are $150 for members in the first three years of their estate planning career.
It will be our pleasure to welcome you
to the Denver Estate Planning Council.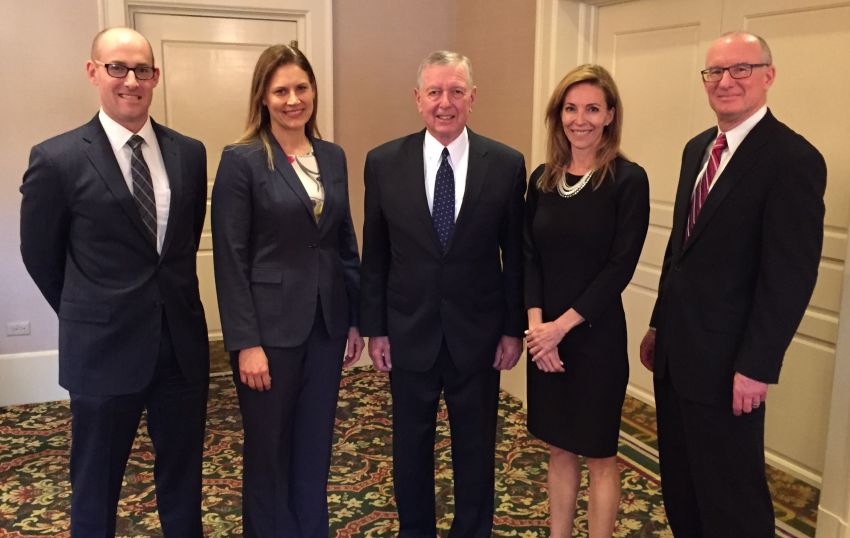 2017-2018 Board Members Doug Hoak, Lisa Davis, Kim Eilber, and Jeff Barker
with Former Attorney General John Ashcroft at the 2018 Annual Meeting