Common GST Problems: How to Avoid Them and How to Fix Them
Date:
Thursday, September 29, 2016
Location:
Denver Athletic Club, 1325 Glenarm Place, Denver, CO 80204, Ballroom
Speaker:
Beth Shapiro Kaufman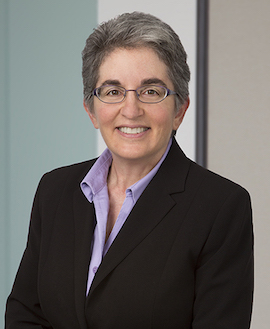 The Program:
Common GST Problems: How to Avoid Them and How to Fix Them
Presented By:
Beth Shapiro Kaufman is a Member in Caplin & Drysdale's Washington, D.C., office; she also serves as President of the Firm. Ms. Kaufman assists wealthy individuals with their estate planning, with a focus on minimizing taxes. She also advises lawyers and other professionals on complex issues regarding estate, gift, and generation-skipping transfer taxes. She is frequently retained by counsel to seek a private letter ruling from the IRS National Office, assist in estate and gift tax audits, or advocate a taxpayer's position before the Internal Revenue Service.
Prior to rejoining Caplin & Drysdale in 2001, Ms. Kaufman worked for over six years in the Treasury Department's Office of Tax Policy. Ms. Kaufman had principal responsibility for all tax policy matters affecting trusts and estates, including estate, gift, and generation-skipping transfer taxes, as well as income taxation of trusts and estates. Legislative projects included the Taxpayer Relief Act of 1997 and the Economic Growth and Tax Relief Reconciliation Act of 2001. Regulatory projects included regulations on qualified domestic trusts, generation-skipping transfer tax, charitable remainder trusts, charitable lead trusts, adequate disclosure for gift tax purposes, separate share, definition of foreign and domestic trusts, and valuation tables.
Ms. Kaufman is a Fellow of the American College of Trust and Estate Counsel, where she currently serves as a member of the Transfer Tax, Washington Affairs, and Programming Committees. She was recently named "Lawyer of the Year" in Trusts and Estates by Best Lawyers in America (Washington, D.C.), and is a frequent speaker and writer on topics relating to estate, gift, and generation-skipping transfer taxes.
Ms. Kaufman is a graduate of Harvard Law School, where she was a member and Notes Editor of the Harvard Law Review, and Pomona College, where she majored in economics
The meeting begins with breakfast at 7:30 a.m. Free parking is available in the Denver Athletic Club parking garage. Please notify the parking attendant that you are there for the meeting.
Members are invited to bring guests. We do not charge for guests at this time.
Printed copies of the presentation will not be available at the meeting. A copy of the presentation will be available on the website prior to the meeting.
---
This presentation qualifies for CPE credit in Colorado.
Learning objectives: This program is intended to inform participants on Estate Planning Issues.
Instructional delivery method: Live instructor
CPE credits: 1 (one) hour
Field of study: Estate Planning
Prerequisites: None
Program Level: Basic
Advance Preparation: None
Program Description:
Course Registration Requirements: Click Register Now on this page or email Stephanie Hill at steph.hill@yahoo.com
Refund Policy: N/A, cost included in annual membership dues
Complaint Resolution Policy: Complaints regarding CPE programming can be submitted to DEPC, P.O. Box 370596, Denver, CO 80237 or to denverecp@gmail.com.
You are invited to email our office manager, Stephanie Hill, at steph.hill@yahoo.com with any questions.
Related Document(s):